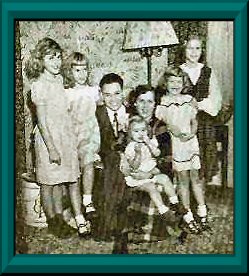 The Philbrick family in 1952 (left to right) Dale Lorraine (9), Sandra Ruth (10), Herbert, Mrs. Eva Philbrick, Leslie Sue (2), Brenda Mae (6), and Constance Anne 11).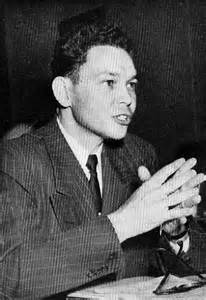 Herbert Philbrick, appearing before the Un-American Activities Committee of the U.S. House of Representatives. Photos are from his autobiography I Led 3 Lives (McGraw-Hill, 1952)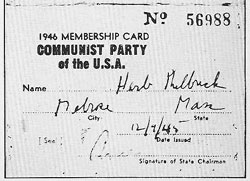 Herbert Philbrick, Communist Party Membership Card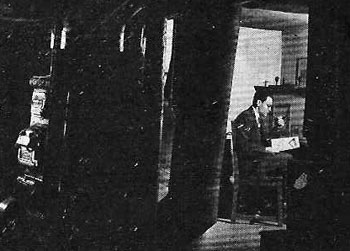 Philbrick maintained a secret room in his basement where he prepared reports on his activities as a Communist Party member in Massachusetts - counterspying for the FBI.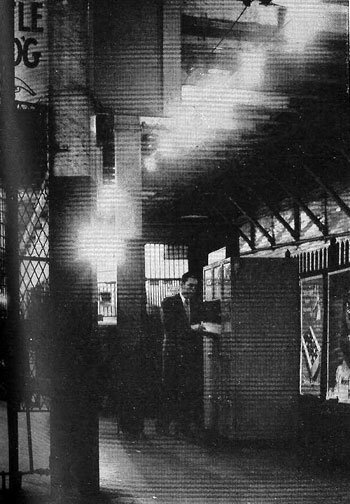 Philbrick would relay his documents to the FBI by placing them in a subway locker, and then mailing his FBI contact the key.
Herbert Arthur Philbrick was born 11 May 1915 in Rye, New Hampshire; he died 16 August 1993 in North Hampton, New Hampshire. He was one of two children, and the only son, of Guy Philbrick, a conductor for the Boston & Maine Railroad, and Alice May Shapleigh, a nurse. He spent his early years in northern New Hampshire, and the family moved to Boston before he was ten years old. He attended high school in Somerville, Massachusetts, and his social life revolved around the Baptist church there. He worked at odd jobs to attend night school at the Lincoln Technical School of Northeastern University in Boston, earning a civil engineering degree in 1938. He married Eva Luscombe on 3 September 1939 and they later had five girls. He was an assistant advertising director for the M. & P. Theatre cinema chain. The couple lived in Cambridge near Harvard Square for a while before moving to a large house at 8 Park Street in Wakefield in 1942.
Unable to find engineering work, he took an advertising job with Holmes Direct Mail Service. Seeking new clients in 1940, he called on the Massachusetts Youth Council in Cambridge. Through this sales call, he became interested in the Youth Council and later helped to set up a subsidiary organization in Cambridge. Gradually he came to realize that the organization was controlled and used for propaganda by the Communist Party. His early discomfort with the positions and tactics of the group led him to contact the FBI, who convinced him to remain connected to the party and act as a counterspy, providing information and documentation on the activities, internal organization, and people involved. During the 1940s he infiltrated several Communist Party organizations in the Boston area, including cells in Wakefield and later Malden. His activities were kept secret from all except his wife, Eva, and the two agents he worked with over the nine year period from 1940 to 1949.
While in Wakefield, living at 8 Park Street, he filed his FBI reports from a hidden room behind the false wall of a cedar closet in the unfinished attic, where he kept a typewriter, dictating and photographic equipment. He was also involved with the First Baptist Church of Wakefield, just across the Common from his house near the corner of Park and Main Streets. He edited the church newsletter, known as the "Tall Spire", and he and his wife were president and vice-president of the church's "Mr. and Mrs. Club". In mid-1944 the family moved to 248 Tremont Street, Melrose.
Philbrick was used by the Party for his advertising skills. Another asset was his public role as a Baptist youth leader. After time spent in local party cells in Wakefield and Malden, Massachusetts, he received training in the fundamentals of Marxism-Leninism and worked for the Party in a variety of front groups. Later he was removed from local party work and assigned to a cell of professionals where his main work consisted of working on the 1948 Progressive Party presidential campaign of former U.S. vice-president Henry A. Wallace.
During Philbrick's time in the Communist Party, its membership and support were eroded by the Party's sharp zigzag from anti-war agitation during the Molotov-Ribbentrop Pact, to enthusiastic support for the war effort after the Nazi invasion of the Soviet Union.
While Philbrick was in the Party, Earl Browder, its General Secretary, who was enthusiastic about wartime cooperation between the United States and the Soviet Union, and was looking forward to postwar cooperation and growing acceptance of the Communist party by the American public, dissolved the Communist Party and reconstituted it as the Communist Political Association, apparently intending to set the Party on a reformist course. Philbrick himself made a brief show of opposing this new policy -- a masterstroke, as the policy was also opposed by William Z. Foster, longtime Chairman of the Communist Party. Shortly thereafter, in July 1945, as a result of the Duclos letter -- a letter by a leading French Communist, which actually was a policy directive that originated in Moscow -- the Party turned away from Browderism and again took a Marxist-Leninist line, though not completely abandoning the tactics of the United Front.
Eventually the U.S. Justice Department asked him to be a surprise witness in the New York trial of U.S. v. William Z. Foster, et al., in which twelve Communist Party leaders (later, eleven, as Chairman Foster was excused due to illness) were prosecuted under the 1940 Smith Act for conspiracy to overthrow the U.S. government. The trial started in January of 1949, and Philbrick's testimony began on Wednesday April 6, 1949, and continued through Friday of that week. The eleven remaining defendants were eventually convicted.
Philbrick later wrote an autobiographical book about his experiences, called "I led 3 lives; citizen, "Communist," counterspy". The book was made into a movie as well as a half-hour prime time syndicated television series which ran for 117 episodes between September 1953 and 1956. Philbrick himself narrated the show, which was loosely based on his own experiences. J. Edgar Hoover and the FBI approved of the program, and approved all scripts. Philbrick was played in the series by actor Richard Carlson.
Later in life, Philbrick retired to the home of his youth, in the Little Boar's Head district of North Hampton, New Hampshire. He remained active, giving speeches and encouraging youth and adult citizens to exercise their political rights and power, admonishing his listeners to be ever-watchful against those who would undermine the republican form of government. Toward the end of his life, he owned and ran a variety store in Rye Beach, New Hampshire. He claimed that he never stopped traveling under assumed names and watching for people following him.